What do we know about Mora clocks?
Well, we know they were made, at least the clock works, in a town called Mora in the district or province of

Dalarna, Sweden. We know that they were made as early as the 18th century and that the shapes that are in demand now, the figure eight and the curvaceous female forms, were produced more in the early 19th century. It seems that each province in Sweden used roughly the same internal clock works and a similar set of patterns for their body types, but each came up with a somewhat different variation on the shape or form. While there was little deviation from the standard figure eight or female shapes, there were some that were very thin and tall (northern Sweden) and some wide and overly shapely. These beautiful clocks, quickly becoming a hot commodity on the market today, were sought after even more fervently in their own time.( CLOCKS TO THE LEFT AND RIGHT ARE "SOLD").
To supply this demand for Mora clocks, a cottage industry formed where individuals or even entire villages would concentrate their production on single parts of the clock. One region might focus on the clock face, another on the weights and so on. The Mora clocks were most often painted in creamy white, grey, or a light blue as these colors reflected the candle light better in the long dark winter days. In the town of Mora itself the clocks were typically painted an abstract brown color. Those clocks were not as popular then and remain so partly due to the Swedish peoples preference for the lighter colors.
Today the Mora clock is very popular especially in the United States. In the last year there was a book published on "Swedish decoration in American homes" and of course the Mora clock was well represented. There is another book in its early stages and should soon be on the market dealing with the same idea and again the Mora clock will be well represented. What does this increased attention mean for the Swedish antiques market, more specifically Mora clocks? Well, as more people read about or come in contact with Swedish antiques and folk art, the demand for Swedish and Scandinavian antiques will accelerate and of course, the prices will rise. As it stands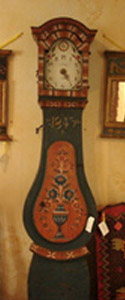 Swedish antique dealers in the U.S. have a hard time keeping Mora clocks in stock due to this rising demand. In Canada we are still in the early stages of this trend and are one of the few actively promoting it. Our inventory at Ryder Antiques is based upon a superb collection of museum quality Scandinavian folk art, antique painted furniture and of course, Mora clocks.
One final piece of advice to those shopping for one of these elegant, timeless works of art; look for one still in its original color, or, one that has been taken down to its original color. If you are unable to find one in its original condition, your next best bet is a clock that has been painted over sometime in the distant past. A more recently painted clock will, in most cases, command a lower price than the ones previously mentioned.
Folk art collectors, interior designers or those with a fine eye for the unique will never be disappointed when adding one of these splendid Mora clocks to their surroundings; icons of a simpler time, statuesque and fetching they stand, a cool balm for our overburdened senses.